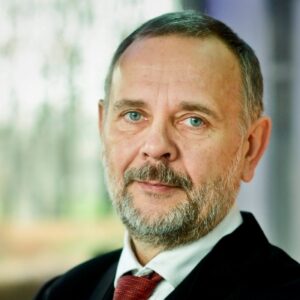 Mirek Sopek is the CTO of MakoLab SA, a Digital Project House listed on Warsaw Stock Exchange with offices in Poland, France, Germany, UK and US. He is also the CEO of MakoLab USA, Inc.
Mirek Sopek graduated from the Faculty of Technical Physics, Information Technology and Applied Mathematics of the Lodz University of Technology. He obtained his doctoral degree at the Faculty of Chemistry in the field of Theoretical and Quantum Chemistry. He worked as assistant professor and lecturer at Lodz University of Technology (molecular modelling), the University of Humanities and Economics (e-commerce/cryptography) and the National Film School in Lodz (computer graphics).
Mirek has been active in the field of Semantic Technologies since 2008. He was a chair of the W3C GAO Generic Automotive Ontology, and W3C FIBO – Financial Industry Business Ontology, communities and today he is managing Automotive Ontology Working Group at Enterprise Data Management Council. In this capacity he, together with his co-workers, contributed greatly to the automotive and financial extensions for schema.org – a web scale vocabulary run by major search engines including Google.
Mirek Sopek has been leading MakoLab's efforts to redefine the way digital identifiers like LEI (Legal Entity Identifier) are used by promoting LEI Knowledge Graphs. As part of the current development of the platform, the combination of Blockchain and Semantic technologies is being actively practiced.
Mirek has also founded Quantum Blockchains, Inc. a startup aiming to create functioning Blockchain technology capable of resisting the currently emerging threats of Quantum Computers.
Presentation starts at 9:00 CEST in June 17, 2021.